Case study – HR director looking for a leadership role
Some of the most successful business leaders find it extremely difficult to create a clear, concise and structured CV which really sells their achievements.
H is a fine example. She is a director of human resources for well-known global matrix organization and has been a senior HR professional for nearly 30 years.
As such, one would have thought that H would have found it fairly straightforward to create her own high impact CV. After all, H reads hundreds of CVs every year and is in the business of recruiting, hiring and firing at top level.
She came to us because her original CV was not working in the job market; notwithstanding the fact that she had some excellent achievements and had transformed underperforming teams and implemented complex organisational development plans in pressurised and fast-moving environments.
Part of H's problem was that she was actually underselling herself in her CV. Another main issue was the fact that her CV was far too long (over 15 pages!), repetitive and it read like a lengthy job description.
H felt overwhelmed when looking at job specifications because she wanted to ensure that she covered everything and explain fully what she had done throughout her career. She clearly demonstrated career progression but her achievements came across as fairly pedestrian because key points had been lost within pages and pages of detail. And because her CV was heavily role descriptive, H was, in effect, pitching herself at more of a managerial level.
Every client who comes to us here at Executive CV Services has a CV which can be improved, usually across numerous areas. H was not untypical in that her CV had various issues, some of them were quite particular, but there was one common problem in that she was overcomplicating things. Often it is better to be selective when looking to improve the overall structure and content of a CV, rather than going into too much detail. Each case is different, and it is a bit of a judgement call about how selective you need to be. Experience is an asset and does come into the equation. It is also advantageous to be able to distance yourself from the CV and view it from a more objective perspective. And we do take an objective view when writing CVs for clients. Distancing themselves from their own CV is something many jobseekers, including executive candidates, struggle with, and especially since many people have an affinity with their career history and their hard earned achievements. Many people do find it hard to let certain, even relatively unimportant things, go. This is quite natural, but it doesn't make for the best CV.
The purpose of a CV is not to say as much as possible but to get an interview. It is a significant difference that is overlooked by a great many people, including many senior professionals.
Another issue with H's original CV was that it also made no reference to the fact that she had extensive expertise in both specialist and generalist roles. This is something else that I addressed for H.
When working with clients one thing I regularly do is to target the CV to a particular job or series of attributes directly relating to that type of position. In this case I identified and discussed numerous issues with H and gave her recommendations which we agreed upon before I started the writing process. Among these included a shift from the original "managerial" emphasis in her CV. With this in mind, I explored and capitalised on those areas and strategic achievements which actually brought out and ultimately showcased her top level leadership qualities.
The new CV that I created for H was pitched at more of a leadership level and covered areas which had been previously missing from her CV (but which she was well versed in) such as succession planning, talent acquisition strategies and organisational/operational development.
It also became clearer when speaking to H that she did not want to limit herself to a specific industry sector. Her current CV did do this to some extent and I was able to advise her how best to optimise her expertise without closing herself off from a broader market sector.
In addition, I was able to tie in practical examples where H had demonstrated real commercial acumen, business impact and an ability to appreciate "the bigger picture."
H had a track record of influencing the decision making process at board level. This didn't come through on her original CV, but it's something else that I highlighted for her.
By listening to H and really understanding what she was trying to achieve, I was able to extract more quantifiable achievements and create a dynamic series of documents which sold to her strengths.
H was delighted with her CV, cover letter and LinkedIn profile and upon receipt commented:
"Rachel – thank you very much for all your hard work. My CV has been significantly improved".

Free Resources
Paul's book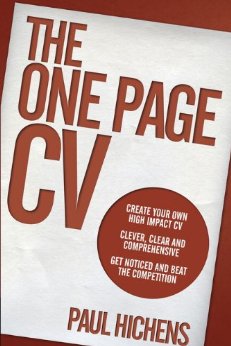 Paul's groundbreaking curriculum vitae book, 'The One Page CV' published by Pearson Education.