Case study – head of operations looking for CEO position
J is an overseas client who came to us because she was looking to move up the career ladder from head of operations to CEO of a different organisation. She also had a secondary aim of another board role for an influential governmental organisation.
Her original CV was not untypical of many that we receive in that it was presentable but was very wordy, far too long and more of a deterrent to read than something that would entice employers to read it with interest.
Again typically, she was targeting a specific role that her original CV was completely out of sync with; as such she had a choice of submitting her application with her original CV, or increasing her odds by having her CV professionally written by executive specialists, and having it specifically optimised for this job.
It was a post that she had her heart set on, and after contacting us and asking for our advice and recommendations she made the decision to invest in our services.
We do stress to clients that there is more to top quality curriculum vitae writing than many people realise, and it does take more time, thought, skill and effort to create executive job winning documents than a lot of people appreciate. Generally, our clients understand and appreciate this, and give us sufficient time to do the job at our own pace. J's deadline was fairly short, but within the typical timescales for our priority service. However, the fact that this was a health sector job application and the employers had also requested a personal statement complicated matters somewhat. Normally, this wouldn't have been an issue, as we are used to writing top-quality personal statements, but as with CVs, most people underestimate the time required to create fully optimised, high impact job statements. In effect, a lot more work was involved than J had anticipated, and she had come to us rather late in the day. However, we do always try to help out clients when we can, and in this case I was able to rearrange some other work, and give J's order top priority and my full attention – burning the midnight oil on occasion.
In addition to the fact that J's original CV was excessively long and needed reducing by 80% her original CV was quite factual and documentary in nature. All it really did was tell a story of what she had done throughout her career, listing different jobs, and plotting her career rise in relatively simplistic terms. Yes, it did demonstrate that she had made good progress throughout her career and had held some very senior posts. However, it was all very passive, and didn't really sell her skills to the maximum – or anything approaching the maximum.
Significantly, it was also out of sync with her target job, and this, amongst other things also needed to be addressed and rectified.
When working with clients one thing I do is to try to advise and guide them when it comes to providing more achievements if needed. In this case J was able to provide some excellent additional achievements which added a lot of value. In addition to this, and again following my guidance, she was also able to provide more information that was missing from her original CV, but which was very relevant to her new target chief executive officer job.
I then drew from this additional information and created a much more concise, pertinent and higher impact document than her original curriculum vitae.
J was also able to elaborate further on other specifics to give me more ammunition to create a powerful job statement that both complemented and worked in tandem with her CV in relation to this job application.
As regards job statements, these are not necessary for many applications, but when they are required it does often give our clients an extra advantage over their competitors. The reason for this is that, in my long experience, many candidates, including executive candidates, seriously underestimate the importance of a top-quality statement when it comes to job applications. Moreover, even when candidates do appreciate this importance they tend not to be able to translate it into action when it comes to actually creating a succinct and pertinent statement that flows beautifully and ticks all the boxes. The net result of this is that the vast majority people apply for jobs with statements that are fairly standard. This, in turn, frequently helps give our clients the edge, and the opportunity to stand out and get noticed when they instead apply with a more powerful, higher impact document.
J was delighted with both our service and her CV, cover letter and personal statement.
She said this:

"I greatly appreciate the work that you have put into my CV – I was shortlisted as the preferred candidate for the CEO role (even before interview!!!)"

Free Resources
Paul's book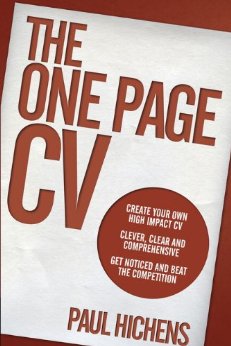 Paul's groundbreaking curriculum vitae book, 'The One Page CV' published by Pearson Education.