Case study – senior executive applying for a not for profit sector role to a challenging deadline
There is more to top-quality CV writing than meets the eye. Every CV is different and it takes a great deal of skill, thought and effort to create a clear, targeted and powerful senior executive CV. Consequently, it is counter-productive for us to rush orders. Without exception, it is better for us to take our time with not just the writing process, but with other aspects as well including requirement gathering. Our clients are intelligent professionals and consequently most are already fully aware of this.
However, circumstances are such that sometimes clients do contact us with extremely tight deadlines and, where we can, and whenever possible, we do go out of our way to help them.
S was a case in point. S had been a managing director of several organisations for many, many years and was looking at a career change. Specifically, S wanted to secure a leadership position for a large charity. The position was being advertised in the national press and the job and person specification amounted to a comprehensive booklet of 45 pages.
S contacted Peter, our customer services manager, just before close of business on a Thursday evening. S wanted to apply for the charity leadership role but felt that his current CV was not up to the mark. S understood the importance of targeting his achievements and optimising his CV to the job and person description but did not know how to approach this.
The role required an application form, supporting CV and position statement to be submitted to a very tight deadline, which was shorter than our usual priority service timeline range. In fact, the application process was due to close at midday on the Sunday.
Creating three bespoke documents is not normally an issue, and we are used to creating optimised personal statements to strict deadlines. However most people (even those that appreciate the value of quality) underestimate the time required to create high-impact job winning documents, which is one reason why we do have recommended timescales even for our priority service. In the case of S, he had a very brief original CV and had come to us very late in the day.
Even so, as mentioned, we do always try to help our clients, and frequent than go to the extra mile to achieve this. In S's case this involved discussing requirements and eliciting further information from him by telephone that same evening to ensure that all bases were covered.
The client was delighted with our prompt attention:
"Peter and Rachel – Many thanks for your great help and the very efficient service you gave me this evening"
I subsequently gave S's job top priority, and worked over the weekend and late into the evenings to meet his deadline with a bit of time to spare.
One of the things that I did for S to improve his prospects was to alter the direction of his CV. There was an absence of any top-level experience within the charitable sector in the original CV. S had many excellent achievements within a fast-moving commercial environment and had run many successful businesses; with large multidisciplinary teams and multi million pound budgets. He also had plenty of charitable experience but not at such a high level. Consequently one of the things I was able to achieve for S was to make the most of his skills and attributes across both sectors to demonstrate how he would be a perfect match for the job.
We do always worked very much with deadlines in mind when there is a deadline – because frequently employers frequently will not wait, and we don't want our clients to risk missing out on a highly paid executive job.
We pride ourselves on all aspects of out of our job, and this includes professionalism and reliability as well as quality of our writing and products.
The client was extremely pleased with our service and said this:

"Firstly, I would like to complement you on the very impressive job you have done. During our telephone conversation of last Thursday you mentioned that in most cases your initial draft is accepted by your clients as the final piece and there is no need for amendments. I must admit that I was in doubt if this is possible in my case and to my surprise, apart from some minor comments, I found your initial draft as a complete job and I am very happy."
S subsequently ordered a LinkedIn profile to complete his professional portfolio and added;

"Rachel – Many thanks for the amendments in my CV, statement and LinkedIn profile. I am extremely impressed by the top professionalism you demonstrated in writing these documents. Today's amendments are perfect and will enhance my candidacy for business executive positions."
It's always very much appreciated when clients are appreciative of our work, and especially when customers recognise that we have striven to go the extra mile for them.
It was a pleasure to have helped S. Clients do tend to come back to us as they move up the career ladder, and I look forward to helping him again at some point in the future when he is ready to move the next rung.

Free Resources
Paul's book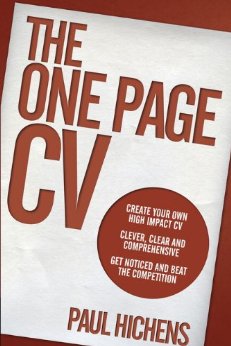 Paul's groundbreaking curriculum vitae book, 'The One Page CV' published by Pearson Education.
4