Case study – Applications through a contact network
H is a very successful senior business executive with extensive experience in M&As, investing in SME companies internationally, and helping them grow either in an advisory capacity, or in some cases in a more hands-on capacity as a director. H came to us because he was looking for a new challenge as a director of a larger company. After 25 years of international business experience he had built up an extensive contacts portfolio, and was looking to distribute his CV amongst his senior level contacts.
At ExecutiveCVServices.co.uk we are used to such scenarios, and take a flexible approach depending on the client, their needs and circumstances. In this case, H's original CV was very long, cluttered, overcomplicated and confusing. He was aware of these things, but as is often the case didn't know how to successfully resolve these and other issues. In addition to this, his original CV and cover letter were written in a very standard way which wasn't ideal for informal applications.
Many people apply for jobs in a fixed/rigid manner, using the same documents and the same approach, regardless of the circumstances or target. However, this isn't the best way to go about things. Often it is a matter of horses for courses, and if you are applying for jobs via your contacts, then this is one scenario when sometimes a more informal and personal approach can pay dividends.
I took this approach for H, and the global net result was a CV and cover letter that spoke more about him to his contacts on a personal level, rather than from an impersonal distance.
I also improved the nitty-gritty of the curriculum vitae on numerous levels. The most visible thing I did was to reduce H's five-page original CV down to just one page. At first glance the new CV may have seemed to include fewer achievements. However, the opposite was actually true as the new version included some excellent achievements that were missing from the original, and I also further substantiated some of the original achievements. As such, the sales message became both more focused and higher impact. As mentioned, the original CV was also very complicated, and it included details of various companies that H was a shareholder in over a long time period. Some of these dates overlapped, and it wasn't actually clear what he had been doing, or what he had actually achieved. There was also the risk that the reader would question the validity of the CV because of the potential anomalies with the various companies and the dates. Really, his original CV came across as just a confusing jumble of information, rather than a clear and focused sales document.
Another thing I did therefore was to restructure and rationalise the CV so that this concept of investing in, and growing companies as shareholder/director was clear, explicit and without ambiguity. Moreover, I did this in a fraction of the space simply by restructuring things in a more logical manner as well as writing proactively yet concisely.
Saying more and fewer words, whilst much easier said than done, is often very advantageous when it comes to marketing (and remember you are marketing yourself in your CV). The case of H's CV was no exception. By reducing the CV in size it immediately became more enticing to read and gave better first impressions. Not only that, but the shorter CV length was also aligned better with H's remit. His intention all along was to distribute it to senior level friends and contacts, applying informally and speculatively for executive job opportunities. The CV and cover letter I created complemented this informal approach not only in terms of size, structure and format, but also in the language – and particularly in the cover letter.
H was very happy with his new CV and cover letter, as well as the dramatic transformation.

Free Resources
Paul's book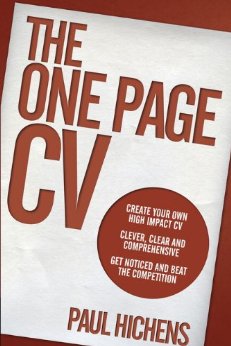 Paul's groundbreaking curriculum vitae book, 'The One Page CV' published by Pearson Education.