Case study – overseas commercial manager looking for a leadership role in the UK
C approached Executive CV Services as a commercial manager who had been working overseas for some time and who wished to create an impact on the UK market.
C had over seven years in a managerial capacity for a global coatings manufacturer and led cross functional teams, budgets and resources over 43 business outlets internationally. C was very much a hands-on manager, who led from the front, and who had implemented some very impressive lean manufacturing process improvements.
Like many successful business leaders, C could prove himself in practice but found it hard to capture his achievements on paper.
C came to us because he wasn't getting any interviews with his original CV. A job opportunity had arisen and C was very keen to apply. It became clearer after talking to C that he was an excellent match for the job in question.
However, in order to grab the attention of the potential employer, I advised C why it was important to completely restructure his CV from scratch, and come at it from a different angle. His current CV was old school, comprising of standard block paragraphs which detailed his career to date. The content was very role descriptive and the language passive in tone. Yes, I could have just tweak and updated it, as other writers do, but it wouldn't have been enough, and it wouldn't have helped C land the job! Some people think that we just make a few amendments the CVs that we do for clients, however we go much further than this; delivering a more holistic solution. Yes, this involves a lot more work for me, the writer, but I wouldn't have it any other way because ultimately it is best for the client.
C's case is not unusual as every client who comes to us here at Executive CV Services has a CV which can be significantly improved. C had plenty to shout about in terms of achievements but they were not coming across at all in his original CV.
Each case is different, and it is a bit of a judgement call about how much detail (and potentially quantifiable achievements) is required to sell clients to their optimum. Moreover, as mentioned isn't just a case of adding things on in a simplistic manner. There are numerous considerations at play, each with different levels of priority. In our case, we have been doing this a long time and have plenty of experience in achieving the right balance when it comes to substantiating CVs, and this experience is often key to the decision-making processes that goes into each and every CV. Clients also tend to appreciate a fresh pair professional eyes looking at their CV – just a real employer would – to determine which areas need substantiating and which areas need toning down, or sometimes even removing all together. We are well placed to take an objective view when writing CVs for clients, and this does help.
Going back to the matter of the job, C was unsure how to tackle the job specification for this particular post. He wanted to ensure that all the essential and desirable skills and attributes were covered in the body of his CV but did not know how to go about this. C had shown real career progression but his achievements had been lost within blocks of descriptive detail. And whilst C had some formidable achievements, he had not quantified any of them or placed them within a commercial context which the potential employer could actually relate to. One of the first things that the employer would want to know about C would be what business benefit he could bring to a new organisation – and he just wasn't showing that on his original curriculum vitae.
In this case I identified and discussed numerous issues with C and suggested coming at his CV from a different angle. As a "roll up your sleeves" kind of professional, the sedatory and static tone of his original CV did not fit his personality. Significantly, it was also out of the sync with the tone of the job specification. I therefore suggested various recommendations to C relating to how we could create a more dynamic document and how we could make the most of his achievements. We agreed upon this approach before I started the writing process and, with this in mind, I researched the target company to explore the cultural fit of the organisation in more detail.
I then identified and capitalised upon those areas and strategic achievements which the potential employer was looking for and brought out C's operational and team leadership qualities.
The new CV that I created for C focused on his ability to lead UK networks (and this was something that he did in his current position but was not mentioned at all in his original CV), drive commercial performance and implement cost saving initiatives. Interestingly, C had not mentioned his wealth of lean management expertise at all in his original CV. This was actually key to target the job description which specifically asked for a professional with proven Six Sigma management expertise.
In addition, C's original CV was one-dimensional in that it told the potential employer what he did but did not elaborate upon how that affected the organisation he worked for. So, for example, in addition to explaining that C had streamlined inventory processes it made sense to explore and highlight the benefits. By substantiating his achievements I was able to demonstrate that C could bring many important benefits advantages to the table; creating a dynamic series of documents which sold to his strengths and which was completely in tune with what this particular employer was looking for.

C was delighted with his CV, cover letter and LinkedIn profile and upon receipt commented:

"Rachel – thank you the fantastic service!"

Free Resources
Paul's book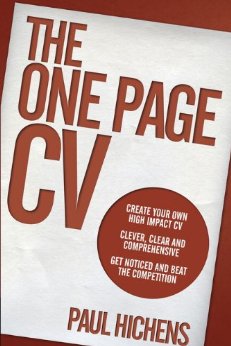 Paul's groundbreaking curriculum vitae book, 'The One Page CV' published by Pearson Education.